manage bookings, customers, finances, staff etc.
developed for Buckmore Park and Three Sisters
handles multiple venues with multiple tracks
suits all vehicle types: cars, bikes, karts etc.
motorsport race circuit management software
The original motorsport ERP remastered
Circuit System evolved from business management software pioneered by Sinclair Design in 2000. The first version was developed for the busy Buckmore Park Kart Circuit in 2008. More recently it has been re-built from scratch for the Three Sisters Circuit in Wigan, using the latest programming techniques. It has also been widely extended to make it capable of managing any type of activity at any type of circuit involving any type of vehicle e.g. karts, cars, bikes, trucks, buggies, etc.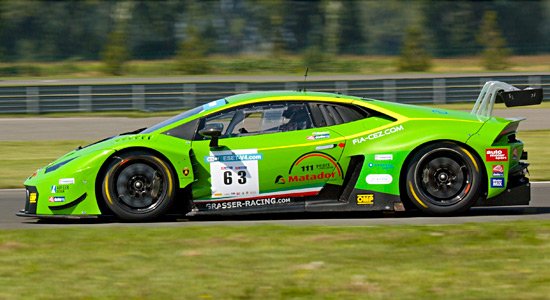 Much more than a booking system
Circuit System is a modern, cloud-based business management system with our latest ERP (enterprise resource planning) engine at its core. This means it can cope with multiple sites in different time zones and tax jurisdictions, with different languages and staff access roles. It includes extensive financial, document and CRM sub-systems, as well as very capable conference centre and hotel/accommodation management tools if required. Or you can simply use it to manage a single-track kart circuit.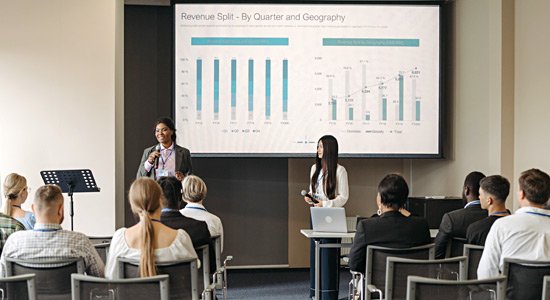 Activity, event and series management
Circuit System is very flexible regarding the type of activities that can be managed. They can be in-house one-off or championship (series) activities for teams or individuals, or client events run to bespoke or set-option formats. Any activity can have up to six separate classes, each individually priced and number-limited, plus an overall number limit if required. Any type of in-house activity can be published and booked online if so configured, and can also be assigned a sales category for revenue reporting.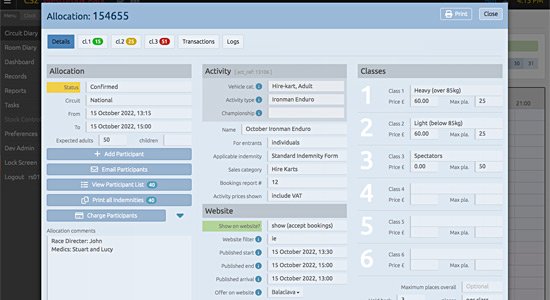 Manage participant sub-bookings
Create and manage participant sub-bookings within any particular activity allocation, each with individual folios. An at-a-glance list of participants displays who is booked to attend, what their status and balance is (if payment is applicable), and if they have registered and signed-on. Clicking a participant's listing allows you to track their charges, payments and product orders, and also to generate confirmations, statements and indemnity forms, etc. Sub-bookings can be cancelled, moved or reassigned.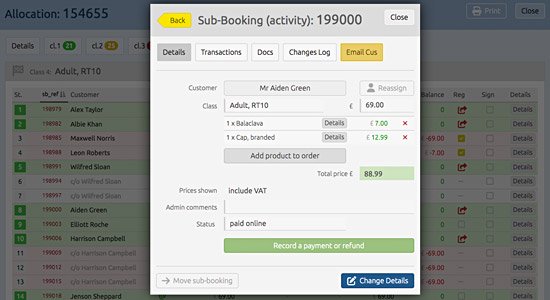 Cope with dependant spaces and grouping
Manage circuits and spaces that can be divided up into smaller areas — 'child' spaces can be configured as dependant upon 'parent' resources, giving warnings if you try to make multiple bookings that clash (e.g. see red booking on diary). Also manage multi-facility bookings — any number of circuits or rooms can be grouped together under one booking whereby all transactions appear on each allocation's folio (see configurable coloured stars to show linked bookings in the diary view).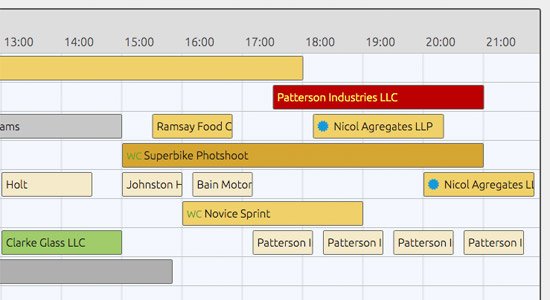 Extensive website and email integration
Being web based, Circuit System comes with seamless website integration as standard, for securely taking online bookings and payments for races, drift competitions, practice sessions, training events and spectator tickets, etc. Participants can also register online, all integrating perfectly with the system. Operators can send messages, confirmations, invoices and statements, etc. direct from the system, and can even create and launch massive email marketing campaigns without third-party tie-ups.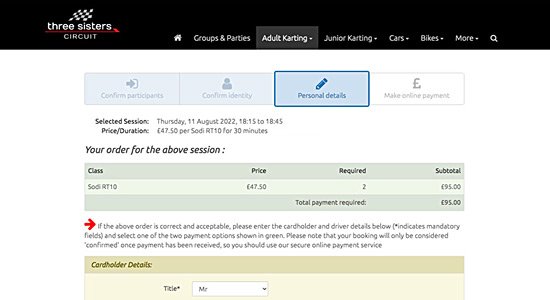 Timing and results system integration
Circuit System is not a race timing/results system with extra booking features – it is a full-blown business management system for motorsport circuits, that can integrate with any timing system with an API that allows two digital systems to talk to each other. This means you can choose the most suitable timing system for your particular needs, and if you need to exchange data with Circuit System e.g. to upload participant names and classes, etc., we can almost certainly make that happen.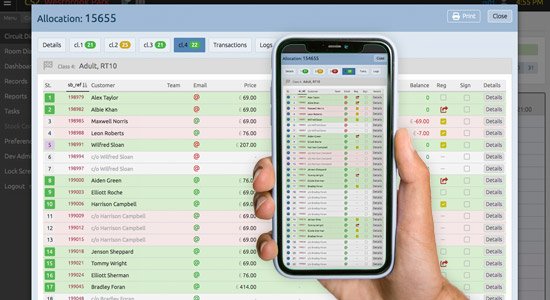 Tax accounts system integration
Circuit System will handle the financial and taxation side of sales transactions with ease, allowing you to manage the day-to-day side of your customer and client accounts, including deposits, invoices, statements and extensive account reconciliation. However, every accounts department likes to work with a specific corporate accounts and taxation system, so we will adapt Circuit System to automatically upload transaction and invoice or credit-note data to your accounts system as often as is necessary.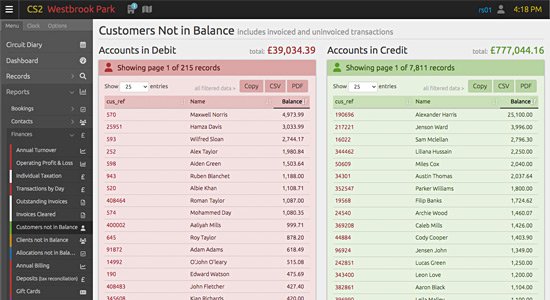 Easily customisable for bespoke features
Circuit System is inherently scaleable and has been designed from its core for easy modular expansion. So if you need bespoke interfaces, customised reports, unusual records kept, or just minor tweaks here-and-there to suit your circuit's way of doing things, this is most definitely the ERP for you. Speedy customisation is a huge strength of Circuit System.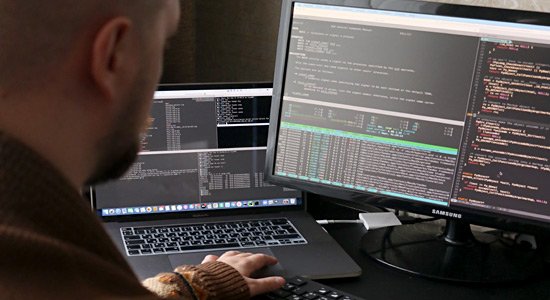 Intuitive interfaces
Evolved from decades of web-application design experience, Circuit System's colourful interfaces have been designed to look good and be used intuitively, reducing or even removing training requirements for day-to-day users. Consistent design metaphors and logical colouring have been expertly used to increase productivity, as have speedy date-pickers and drag-and-drop interactions. Every part of the system is useable on a tablet or smartphone.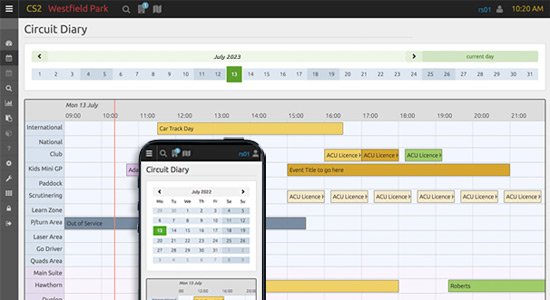 Accessible from almost anywhere
Being cloud-based, any number of users can concurrently access the system from any desktop or mobile device with a Wi-Fi or mobile internet connection and a modern browser. The security technologies and design techniques employed are contemporary, and the system is not susceptible to malicious software on your office network. We take care of the specialist hosting hardware which is housed, triple-replicated and backed-up in multiple data-centres ...it's what we do!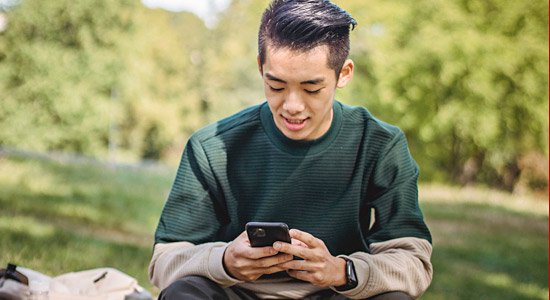 Comprehensive financial sub-systems
Using editable core values that you configure, Circuit System's algorithms automatically calculate vehicle, circuit and room hire charges according to participant numbers or hire periods as appropriate. It automatically accounts for charges, payments, turnover and various balances (net or gross of tax) in a multitude of reports. Confirmation notes, indemnity forms (multiple types), invoices and statements are generated as printable web pages or PDF files which can be downloaded or emailed in an instant.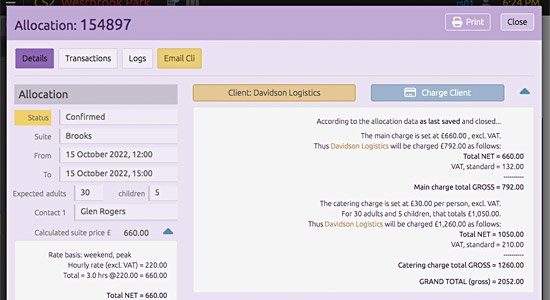 Create HTML email marketing campaigns
Legitimately send personalised plain or HTML emails to tightly targeted groups of customers, clients or suppliers, avoiding junk folders and maximising delivery (subject to your mailing list being clean and current). Circuit System includes an incredibly intuitive drag-and-drop HTML email template creation tool, and our popular customer/client/supplier 'marking' and 'tagging' tools allow granular levels of campaign targeting that have to be seen to be believed.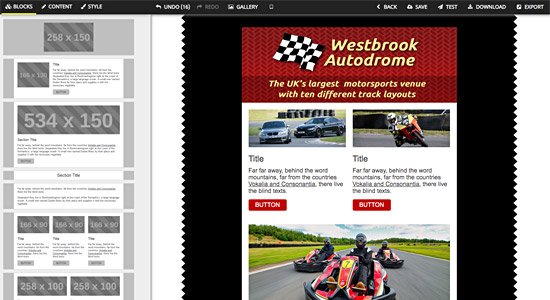 Online driver registration
Easily send pre-populated emails to all activity participants, inviting them to register or update their contact details online, or those of their guests. On arrival, desk-mounted tablets allow participants to check, update and confirm their recorded details before digitally signing an indemnity form. The completed forms are securely archived in our cloud storage system, but can be retrieved and printed at will [note: the arrival sign-on feature is not yet complete in the latest version of Circuit System].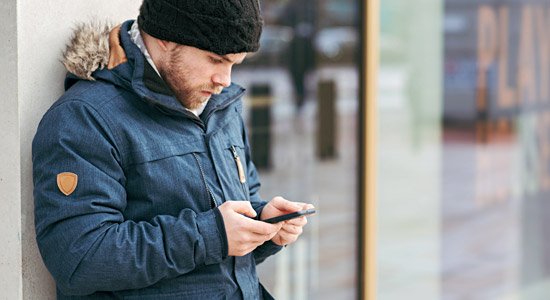 Customer Relationship Management
Record and manage your company's interactions with current and prospective customers and clients (separately), ensuring that every sales lead is tracked and followed up. 'Initial conversion' tasks are handled separately to 'ongoing retention', and sales staff can be assigned to individual customers or clients in order to track success rates or commission, etc. CRM notes and emails are presented in an easy-to-read communications timeline that can be viewed at the click of a button on CRM reports.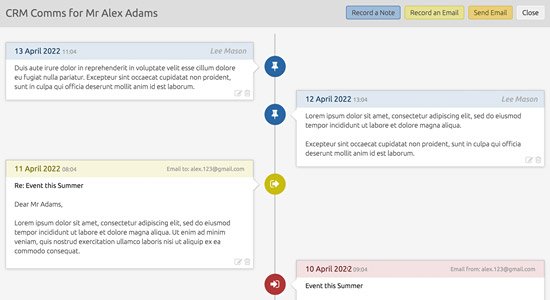 Gift cards and loyalty points
Issue and track gift cards for incentives or presents, and/or loyalty points for redemption according to flexible configuration options. If using a Site System website, purchased gift cards and their transactions are automatically entered into the system. Loyalty points can be set up for automatic accrual upon payments made, and can also be used as part or complete payment for online bookings (the system automatically checks if the customer has points and offers the chance to redeem them).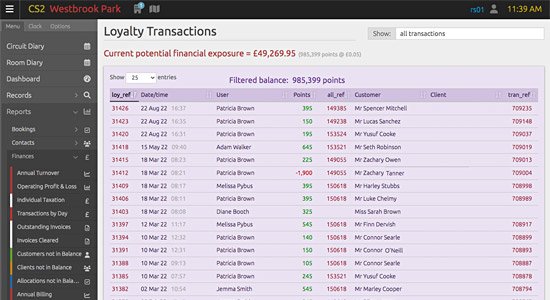 Conference centre and hotel management
Conference System can be enabled as integral to Circuit System, allowing you to manage and financially control function rooms, cafes or briefing rooms, etc., all as part of one multi-facility booking. Hotel System can also be enabled, allowing you to manage hotel accommodation or camping pitches, etc. One client/customer folio could, for example, cover multiple circuit activities, various function suites and overnight accommodation for 100 people or more. The system is very capable.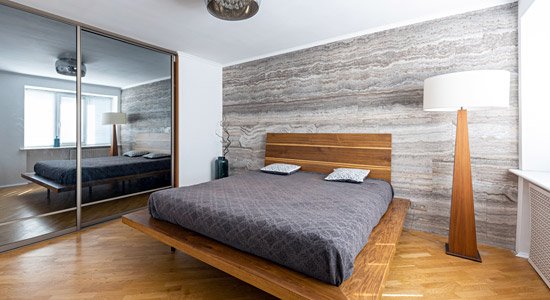 Manage merchandise and other products
Whether you wish to sell balaclavas to drivers, trophies to event organisers, or merchandise to website bookers, Circuit System enables you to configure products and manage orders from request through to fulfilment. Default prices can be overridden at any stage, and stock levels can be set to automatically adjust as sales are completed. Although ideal for selling physical inventory, services or benefits (e.g. VIP access, second-driver or passenger places) can also be entered as products.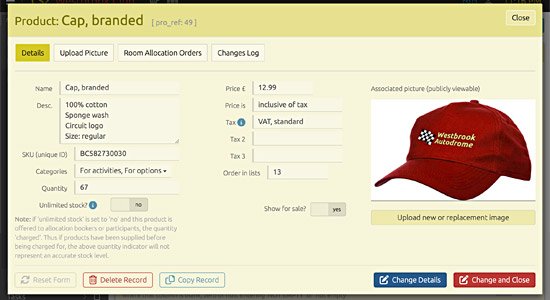 Digital marketing campaign management
Diary allocations can be flagged for promotion via social media or bulk email, which will automatically create a campaign record with the relevant dates, ready to start planning the campaign content (title, text, hashtags, assets, primary link, etc.) as well as the channels, lead-time and activity level, etc. All campaign records are then listed on a scheduler and tracked by status as each campaign is progressed from initial planning, through authoring and sign-off to scheduling and final publication.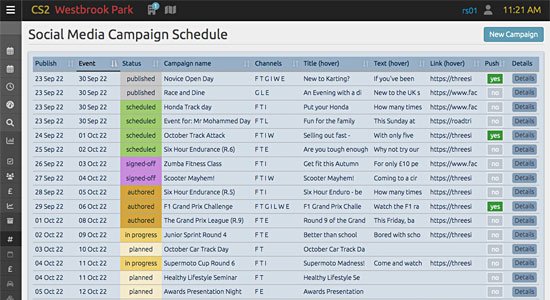 Workshop management and stock control
Manage and track stock deliveries and inventory storage, plus fitment of parts to vehicles, providing a maintenance and parts log for individual hire vehicles [note: the inventory management feature has been integral to previous versions of Circuit System for many years but is not yet complete in the latest version].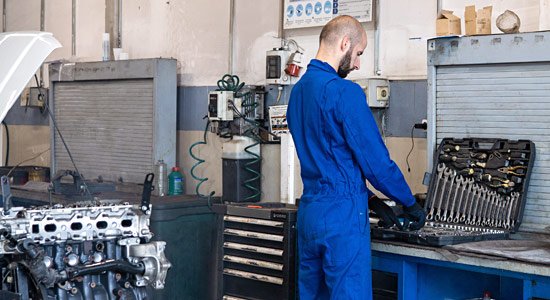 Manage staff shifts and holidays
Allow managers to plan and record staff shifts, holidays and overtime, etc., with various management reports and diaries not only showing who is working and when (by site and department), but also allowing detailed payroll analysis. The system features 'planned shifts' and 'actual/clocked shifts' which can be compared data-wise as well as visually using a unique overlay display. If your clock-in system has a data export or web API, we will probably be able to integrate it with Circuit System.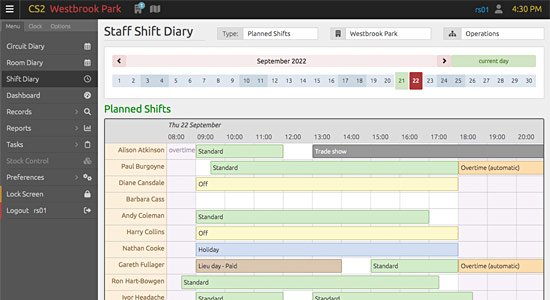 Continual improvement and development
We continually update and expand the system without any need to access our clients' local networks. Changes are instantly seen by all operators without the need to install updates, and bugs are nearly always fixed the same day they are reported. Although Circuit System has just been rebuilt from scratch with a new core, it is still a logical development and improvement of everything in previous versions, and it will continue to improve and evolve, just as it has always done for the last fifteen years.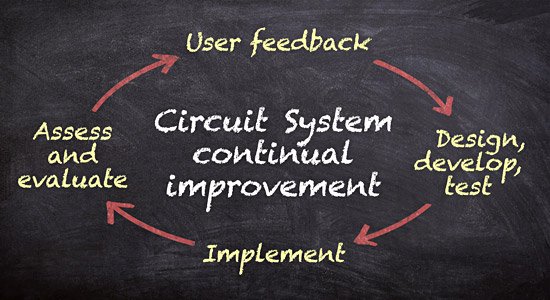 ---
Call us on 01539 536686, or make an enquiry...
---
Sinclair Design are great collaborators, and were instrumental in helping us to develop the management of our race circuits. Intuitive, simple and easy to use, Circuit System has enabled us to manage our circuits with an automated, smarter and fundamentally more efficient business management system.
— Bill Sisley, MD
Motorsport Circuit Management Ltd
Annual Licence Fee
Unlike hotels where the system requirements and usage of one 50-bed hotel will be similar to the next 50-bed hotel, every motorsport circuit tends to be operationally unique. Thus your annual hosting/licence/support fee will depend on an appraisal of the likely resource demands of your circuit. As a rough guide, a UK kart circuit with a single track configuration and one function room would probably incur annual licence fees of around £1,500 +VAT (not including a Site System website).
No setup fees.
No additional maintenance fees.
Telephone or email support is available during normal working hours.
Emergency support is 24/7.