manage bookings, customers, finances, staff etc.
handle multiple venues with multiple facilities
ideal for hotels that manage their own bookings
particularly suitable as a base for custom features
hotel or accomodation custom ERP software
More than just a room booking system
Hotel System is a modern, cloud-based business management system with our latest ERP (enterprise resource planning) engine at its core. This means it can cope with multiple sites in different time zones and tax jurisdictions, with different languages and staff access roles. It includes extensive financial, document and CRM sub-systems, as well as very capable conference and/or leisure centre management tools if required. Or you can simply use it to manage a small hotel with a dozen rooms.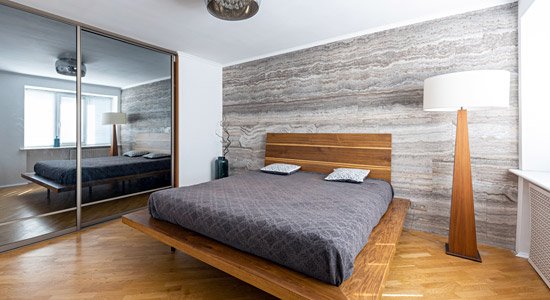 Ideal as a solid ERP core for customisation
Sinclair Design pioneered the web-based PMS concept in 1999, well before market readiness. Now web-based accommodation systems are everywhere, seemingly in a race to the bottom of price and usability. If your needs go beyond the features of the usual PMS vendors, and if you need your PMS to mirror the way you operate, instead of vice versa, Hotel System is for you. It might only have the basics out-of-the-box, but it has a rock-solid ERP core ready and waiting for customisation and expansion.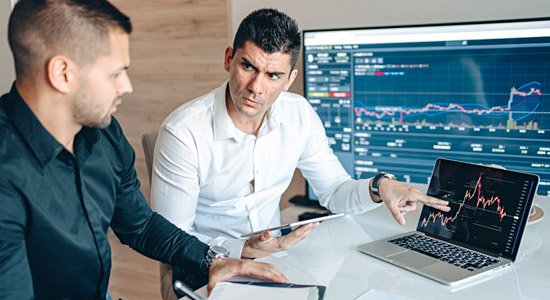 Intuitive interfaces
Evolved from decades of web-application design experience, Hotel System's colourful interfaces have been designed to look good and be used intuitively, reducing or even removing training requirements for day-to-day users. Consistent design metaphors and logical colouring have been expertly used to increase productivity, as have speedy date-pickers and drag-and-drop interactions. You'll also be pleased to know that every part of the system is useable on a tablet or smartphone.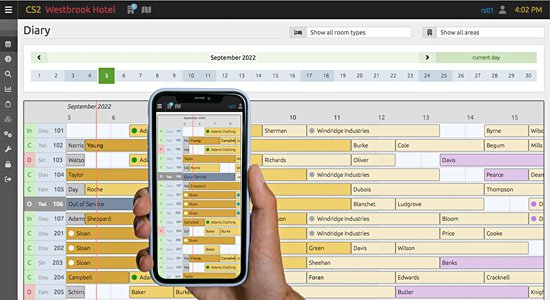 All booking data in one place
Clicking or tapping on a diary allocation brings up a modal showing everything you might want to know about the booking, either on the opening tab or just a button-click away. The entire interface is easy to understand, and various clickable blue arrows open up detailed financial calculations (see further down this page). Record charges and payments, view documents, add orders for products and/or services, and record numerous customer preferences in an expandable aide-memoire.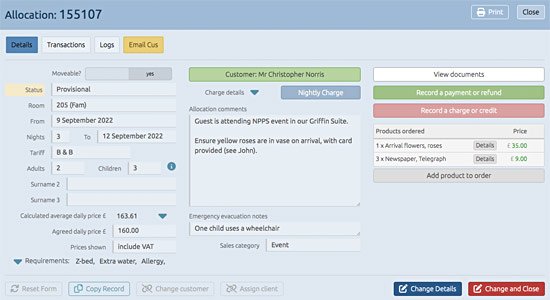 Cope with allocation grouping
Manage groups of room allocations for wedding parties, family get-togethers or corporate activities, etc. Any number of accommodation and/or function rooms, allocated on different days if necessary, can be grouped together whereby all transactions appear on each allocation's folio, which can then be selectively charged to a client or any individual member of the group with complete flexibility. Grouped bookings can be assigned coloured stars to aid identification in the diary view.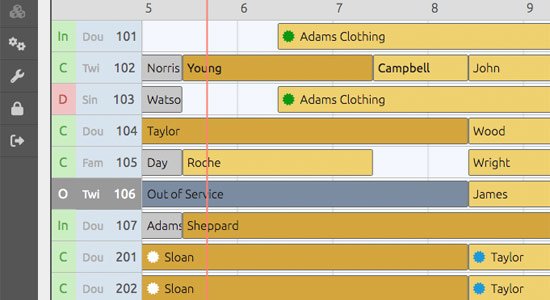 Channel management options
Every hotel that uses a channel manager has a favourite from the hundreds available. It is not commercially feasible for us to build complex APIs (connection interfaces) for all the channel managers, so we don't try. If you are able to take most of your bookings through your own website, Hotel System can do this commission-free via a Site System website. Or if you plan to use Hotel System as the core for a custom PMS then we will build channel manager APIs specific to your exact needs.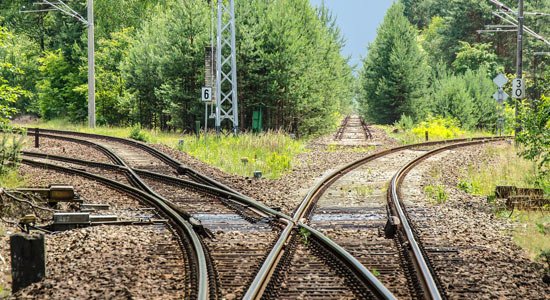 Informative housekeeping lists
The main diary always shows you which rooms are clean, dirty or inspected (optional), but the Housekeepers List, which is specifically designed for phones (no separate app required), takes this much further, colour coding each room listing by its priority e.g. a dirty room with a check-in due will show in dark red. Housekeepers can view as much booking data as the operator wants them to access, and staff can raise and view maintenance issues or flag rooms as 'clean' direct from this page.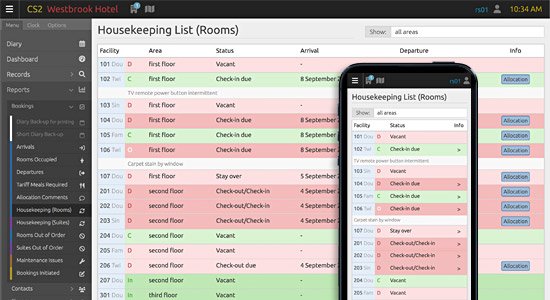 See tariff meal requirements for any day
Hotel System's Tariff Meals report lists all the bookings for the selected day which have meals included as part of the applicable tariff e.g. B&B. The report distinguishes adults from children and then totals the numbers for each meal. The system can be configured with the default price for each meal, and also a reduction-rate for children. This enables accurate prices to be automatically calculated when making a booking, and note that default meal prices can be overridden at any time.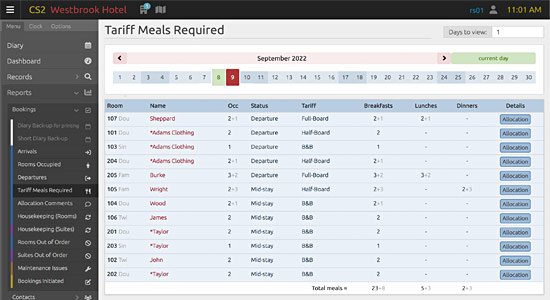 Manage product sales
Whether you wish to sell flowers, champagne, newspapers or extra meals to website bookers, Hotel System enables you to configure products and manage orders from request through to fulfilment. Default prices can be overridden at any stage, and stock levels (if applicable) can be set to automatically adjust as sales are completed. Although primarily intended for selling physical inventory, services or benefits (e.g. parking, VIP lounge or gym access) can also be entered as products.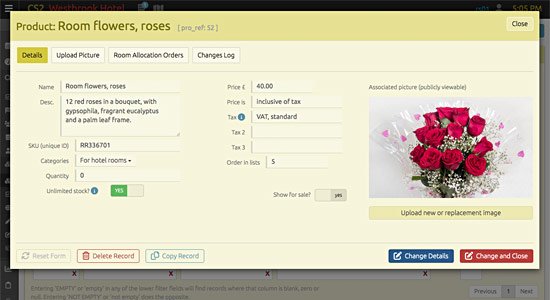 Tax accounts system integration
Hotel System will handle the financial and taxation side of sales transactions with ease, allowing you to manage the day-to-day side of your customer and client accounts, including deposits, invoices, statements and extensive account reconciliation. However, every accounts department likes to work with a specific accounts and taxation system, so we will adapt Hotel System to automatically upload transaction and invoice data to your accounts system as often as is necessary.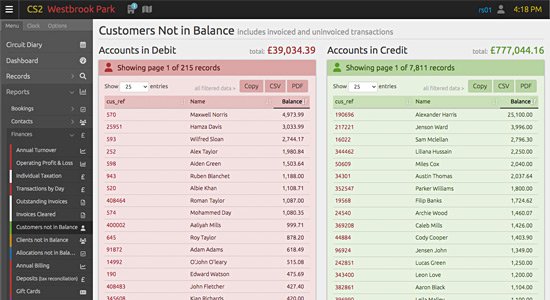 Accessible from almost anywhere
Being cloud-based, any number of users can concurrently access the system from any desktop or mobile device with a Wi-Fi or mobile internet connection and a modern browser. The security technologies and design techniques employed are contemporary, and the system is not susceptible to malicious software on your office network. We take care of the specialist hosting hardware which is housed, triple-replicated and backed-up in multiple data-centres ...it's what we do!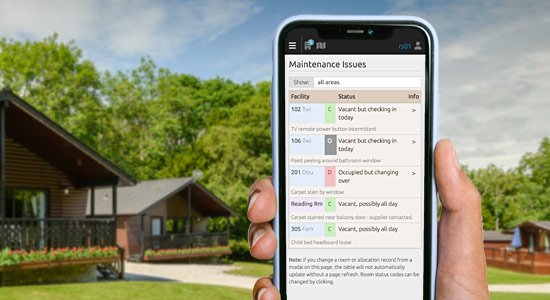 At-a-glance useful reports and metrics
See what's really going on with your sales and customer bases. For an ERP to be a properly useful means of informing business strategy, two things have to be done right: (1) detailed data collection, and (2) meaningful data display. Reports need to be succinct, understandable, bang up-to-date and quick to run and view. Conference System provides all this and more thanks to high levels of data recording, skilful elicitation of metrics, and clever yet very simple-to-understand graphs and charts.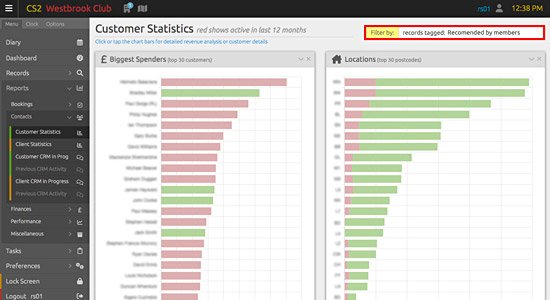 Easily customisable for bespoke features
Hotel System is inherently scaleable and has been designed from its core for easy modular expansion. So if you need bespoke interfaces, customised reports, or just tweaks here-and-there to suit your organisation's particular way of doing things, this is most definitely the ERP for you. Speedy customisation is a huge strength of Hotel System so if your operational peculiarities can't be handled by an off-the-shelf PMS, and a totally custom ERP or PMS is unaffordable, Hotel System may be your perfect solution.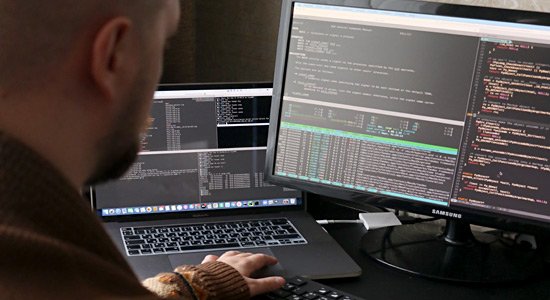 Comprehensive financial sub-systems
Using editable core values (e.g. room-type and tariff meal charges), algorithms automatically calculate occupiable and function room charges according to tariff, occupants and/or allocation periods. The system automatically accounts for charges, payments, turnover and various balances (net or gross of tax) in a multitude of reports. Confirmation notes, invoices and statements are generated as printable web pages or PDF files which can be downloaded or emailed in an instant.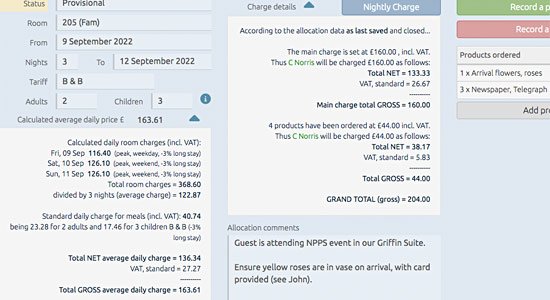 Create HTML email marketing campaigns
Legitimately send personalised plain or HTML emails direct from the system to tightly targeted groups of customers, clients or suppliers. Avoid junk folders and maximise delivery, subject to your mailing list being clean and current. Hotel System also includes an incredibly intuitive drag-and-drop HTML email template creation tool, and our popular customer/client/supplier 'marking' and 'tagging' tools allow granular levels of campaign targeting that have to be seen to be believed.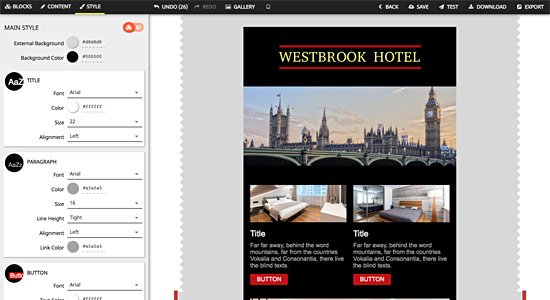 Customer Relationship Management
Record and manage your company's interactions with current and prospective customers and clients (separately), ensuring that every sales lead is tracked and followed up. 'Initial conversion' tasks are handled separately to 'ongoing retention', and sales staff can be assigned to individual customers or clients in order to track success rates or commission, etc. CRM notes and emails are presented in an easy-to-read communications timeline that can be viewed at the click of a button on CRM reports.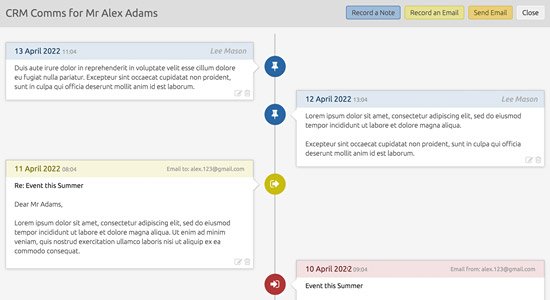 Gift cards and loyalty points
Issue and track gift cards for incentives or presents, and/or loyalty points for redemption according to flexible configuration options. If using a Site System website, purchased gift cards and their transactions are automatically entered into the system. Loyalty points can be set up for automatic accrual upon payments made, and can also be used as part or complete payment for online bookings (the system automatically checks if the customer has points and offers the chance to redeem them).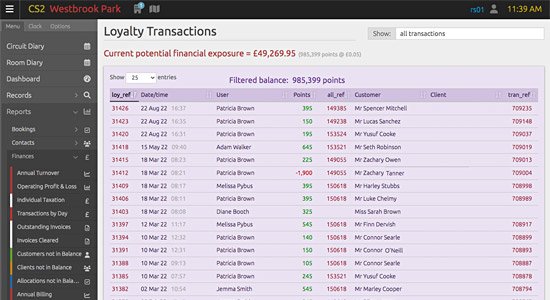 Conference centre management
Conference System can be enabled as integral to Hotel System, allowing you to manage and financially control a vast array of function rooms and/or leisure facilities with sub-booking management. One client or customer folio could, for example, cover various function suites and sports activities as well as accommodation for 100 people or more. The system is very capable and adding custom modules for bespoke requirements is relatively straightforward and thus cost-effective.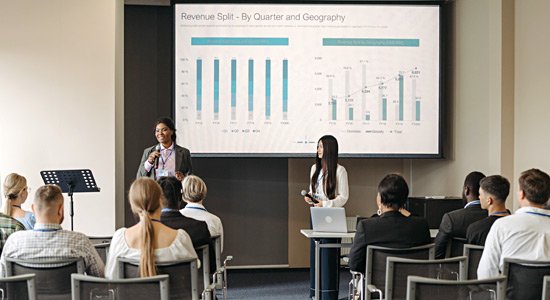 Digital marketing campaign management
Diary allocations can be flagged for promotion via social media or bulk email, which will automatically create a campaign record with the relevant dates, ready to start planning the campaign content (title, text, hashtags, assets, primary link, etc.) as well as the channels, lead-time and activity level, etc. All campaign records are then listed on a scheduler and tracked by status as each campaign is progressed from initial planning, through authoring and sign-off to scheduling and final publication.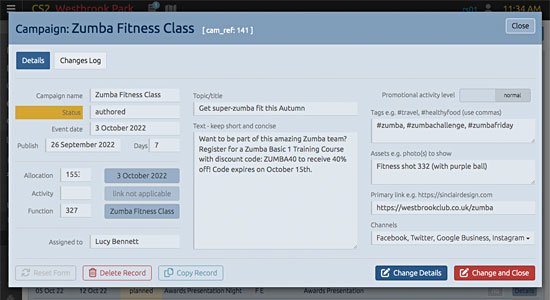 Manage staff shifts and holidays
Allow managers to plan and record staff shifts, holidays and overtime, etc., with various management reports and diaries not only showing who is working and when (by site and department), but also allowing detailed payroll analysis. The system features 'planned shifts' and 'actual/clocked shifts' which can be compared data-wise as well as visually using a unique overlay display. If your clock-in system has a data export or web API, we will probably be able to integrate it with Hotel System.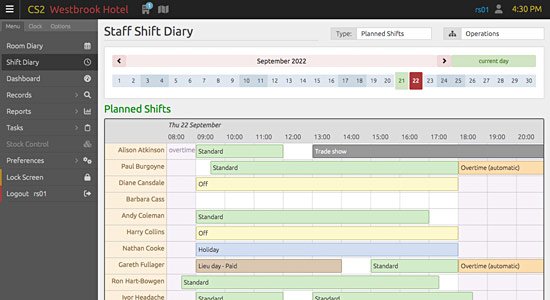 Continual improvement and development
We continually update and expand the system without any need to access our clients' local networks. Changes are instantly seen by all operators without the need to install updates, and bugs are nearly always fixed the same day they are reported. Although Hotel System has just been rebuilt from scratch with a new core, it is still a logical development and improvement of everything in previous versions, and it will continue to improve and evolve, just as it has for the last 23 years.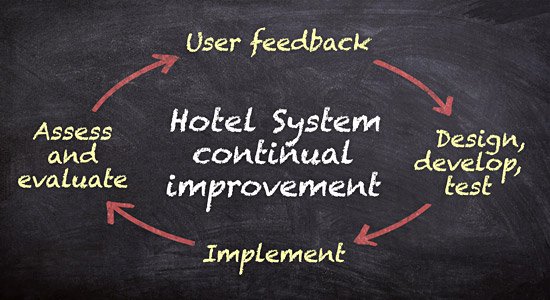 ---
Call us on 01539 536686, or make an enquiry...
---
In the fourteen years since we started to use Hotel System we have found it to be a stable and robust PMS which is easy to use. New staff members can pick it up in a couple of days, finding their way around the system with ease. That said, if we need support, Roy is on hand straight away.
— Peter Baker, Director
Woodlands Hotel & Pine Lodges, Lake District
Annual Licence Fee
If you use Hotel System as the basis for a custom-ERP solution then the cost of bespoke development will be discussed and agreed prior to starting the project. In such cases your annual hosting / licence / support fee will depend upon an appraisal of the likely resource demands of your particular organisation, but this can be modelled to suit your billing preferences (within reason).
If you use the system as it stands, your annual licence fees will be 14p per room per day. For example £613pa for 12 rooms; £1,022pa for 20 rooms; £2,555 for 50 rooms. All prices subject to VAT. Minimum charge £613 pa (12 rooms). Billed quarterly in advance. Price does not include a Site System website.
No setup fees.
No additional maintenance fees.
Telephone or email support is available during normal working hours.
Emergency support is 24/7.