What to wear and carry when hillwalking in Snowdonia, the Lake District or Scotland
Posted by Roy Sinclair on 19 July 2015 at 8:05pm
12 comments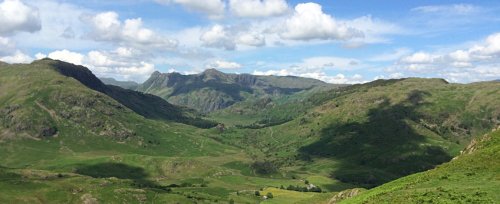 [ last updated October 2021 ]
This article is aimed at novice or occasional hillwalkers who might need some help in choosing or buying the right clothing and equipment for what are intended to be fair-weather hikes in the county's more topographically challenging national parks. It covers footwear, waterproof jackets, walking trousers, other clothing and essential equipment for navigation and safety.
Why should I be concerned?
The trouble with hillwalking in UK regions such as North Wales, the Scottish Highlands, the Lake District and the Peak District, is that the topography of such mountainous areas often creates its own localised weather systems, nonchalantly oblivious to what the weatherman says ought to be happening. As warm air travels up and over high ground, so the water vapour it contains can cool, condense and form stratus or lenticular clouds within seconds of reaching the dew point (the temperature that water vapour condenses into liquid). Similarly, sun-baked mountain sides can cause warm, humid air to rise and form cumulus and cumulonimbus clouds. Either way, what might start out as a calm, sunny day's hillwalk, can very quickly turn into a cool, windy or wet hike with fog or cloud obscuring all but a few metres ahead. Because of this common phenomena, experienced hillwalkers wear appropriate clothes and carry the right kit for a changeable environment.
Footwear
As any summer visitor to the summit of Snowdon will witness, it is perfectly feasible to follow well-managed 'tourist' hill paths in sandals or light trainers, but as soon as you walk on unmanaged footpaths and encounter muddy lowlands, wide streams or loose scree and rocks, you'll realise why having the right footwear is probably the number one concern of experienced hikers. Walking shoes are okay for lowland country paths, but given that a sprained ankle is a common hiking injury, boots are definitely the sensible choice for the UK's more challenging national parks. Strong soles and good ankle support is the name of the game here, although boots that are too thick, heavy or rigid can become tiresome on flat roads and paths, so you need to get the balance right.
Visit a large retailer such as Go Outdoors or Cotswold Outdoors and try on as many boots as it takes to find a shortlist of comfortable products that support your feet without any slipping during ascents or descents (good retailers will provide a ramp to test this). Assess and compare the soles of different boots by bending them laterally and twisting them longitudinally - you want some flexibility to ease the motion of walking, but not so much that you'll feel sharp rocks underfoot, or fall over when that loose rock moves slightly, or lose support when putting your weight on a partial foothold.
The outsole (underside) of a walking boot is normally designed for a particular terrain or a mixture thereof. Chunky patterns give good grip in mud, throwing it off as you walk, whilst shallow treads are usually designed for particular types of rocky surface. For hillwalking, you'll need a good compromise so ask the salesperson to explain the type of grip that each of your short-listed boots is designed for.
Boots with thick, one-piece leather uppers will generally last longer than those with multiple synthetic mesh and nubuck/suede panels, and will protect you well from sharp knocks, but they are usually heavier, hotter, more expensive, and take some breaking in before they become comfortable.
Because of the risk of encountering rain, wet grass or streams and mud, waterproof boots are pretty much essential if you wish to avoid spending an entire day with wet, wrinkled and sore feet. But not all waterproof membranes are equal, and many are prone to failure where toenails rub, toe-boxes crease, or stones and seeds fall inside the boot and pierce the inner-sock. The most well-known and trusted brand of waterproof membrane is Gore-Tex, which is usually signalled by the use of the letters GTX in the boot's name.
Always buy a suitable external after-treatment for your boots, such as Nikwax Fabric & Leather Proofer (spray or sponge on), and re-proof them regularly. This is because if the boot's outer fabric gets wet, it will stop the inner membrane breathing, which means your feet will get wet with sweat instead of rain!
Different footwear brands tend to suit different foot shapes, so what is right for one person is not necessarily best for the next. Heel shapes also differ, so don't, whatever you do, buy boots thinking that a slipping heel will get better with wear - it'll cause blisters that turn a nice walk into a nightmare! That said, ask the salesperson to show you how to fit a boot correctly, as you need to pull the heel right into the boot before lacing it up.
So, how much do you need to spend for a decent pair of boots? …at least £100 I'd say, if not £150. One of, if not, the most popular hillwalking boots of recent years is the lightweight Salomon Quest 4D GTX (the 2021 model is called the Salomon Quest 4 Gore-tex), costing between £145 and £180, depending on where you look. It suits normal-width feet with a narrow heel, which is conveniently perfect for my particular foot shape (I'm alright Jack). It has excellent ankle-support, ContraGrip soles, Gore-Tex socks, nubuck and mesh uppers, and offers the ideal compromise of breathability and support - in my opinion - for hillwalking. It is also available in women's sizes and colours, much to my girlfriend's approval. If you're not sure where to start when looking for boots, the Salomon Quest 4 Gore-tex is by far the best bet for most foot shapes.
Waterproof Jacket
Second on the list of priorities for hillwalking gear, should be a decent waterproof jacket. The chances are that when you start your walk it will be a dry and reasonably warm day, but as explained, that could change in an instant. And if it does, and you're caught out in dropping temperatures, rain or cutting winds, you'll be as miserable as a big cold wet thing that's upset. And if you're lost (e.g. in fog or low-cloud) with inadequate clothing, hypothermia could soon follow. It happens too frequently, so pay attention: take a waterproof jacket with you on any trip into mountainous terrain.
Something else to consider is that if you're climbing high, the temperature will drop as you ascend, noticeably so on sunny days where the lowlands tend to heat up more quickly than the peaks. It also tends to be considerably more windier on peaks and ridge-lines, which lowers the 'feels like' temperature even more. The point here is that even if you are 100% sure it will not rain on your trek, you may well be thankful that you packed an extra layer of warmth in the form of a waterproof jacket, and if you injure yourself and have to wait for rescue then you will definitely be glad for some extra protection from the wind and dropping temperatures as your body cools down.
I'm not going to try and cover every aspect of waterproof jackets in every season and climate, but I'll make some assumptions as follows: you are expecting your walk to be mainly dry but you could encounter some showers; and you think you're wearing enough layers to stay warm and comfortable, but there's a chance it could turn windy or cold on the summits of your walk. So you need to be prepared for things turning nasty but you don't want to carry a gram more in weight than is necessary. This kind of scenario calls for a lightweight, waterproof, breathable and windproof jacket that packs up neatly into its own hood, pocket or bag.
Back in the 80s, 'breathable and waterproof' generally meant 'Gore-Tex' and little else, but more recently there has been an explosion of new waterproof and breathable 'technical' fabrics released. Microporous PTFE or PU membranes such as Gore-Tex, eVent and NeoShell employ microscopic holes that are large enough to let molecules of water vapour out (i.e. your sweat), yet small enough to stop water droplets coming in (i.e. the rain). As you walk, your body creates heat and humidity inside the jacket, which effectively pushes the water vapour out. On the other hand, hydrophilic coatings or membranes such as Hyvent, PreCip and Sympatax are impermeable to air and work by 'molecular wicking'. This makes them more durable and resistant to contamination than microporous fabrics, and recyclable too! Then you have modern laminates such as second-generation Gore-Tex and Active Shell which contain both microporous and hydrophilic materials, and other systems still, such as Nikwax Analogy which mimics the way animal fur works. It's all a bit of a 'tech' minefield!
In summary then, some membranes and coatings work better than others for different weathers and conditions, so read product descriptions and reviews before buying a jacket, and choose a fabric that is aimed at your particular activity and environment. And don't fret too much about which particular system is best as the differences between them are small (provided you choose a 'proper' outdoor clothing brand) when compared to more important aspects such as fit and functionality.
Personally, I have various Craghoppers 'Aqua-Dry' coats for wet days in different seasons, all of which are properly breathable and fully waterproof. However, when I don't want to lug around more than I need to, my go-to jacket is a Marmot PreCip jacket costing around £70, which is superb value for its capabilities. At 370g it is exceptionally light, it's available in yellow or orange for rescue visibility, and has an adjustable hood big enough to cover a cap. It has both pocket- and pit-zips for added ventilation, and has protected me from the most cutting winds at the top of Red Screes and Snowdon among others. Oh yes, and it also keeps me bone dry in heavy rain, subject to the following...
No 'breathable' fabric or membrane is more than about 25% effective, so if you put the hood up in rain, then tighten up the cuffs and neck, it will only cope with so much sweat. Don't be surprised then if you climb a steep ascent and notice that your arms are sticking to wet sleeves. The solution, if you are going to be working up a sweat in the rain, is to wear a waterproof hat with a brim that will channel rain away from your neck. Leave your hood folded away, loosen the cuff fasteners and open up your pit-zips if you have them. In short, give your jacket less work to do by allowing some ventilation, even if this means a little rain might get in, because the end result is bound to be dryer than sweating more than the jacket can cope with.
Walking Trousers
Whilst there is nothing to stop you hillwalking in jeans or casual shorts, making the transition from town walking to hillwalking means that you'll soon find out why proper walking trousers are more appropriate. The most popular walking trouser in the UK is, we are told, the Craghoppers Kiwi range. Available in a multitude of fits and weights, lined or unlined, with zip-off legs or not, they have features that other brands do their best to imitate. No matter what brand you prefer though, look for these features in the trousers you wear...
The material should be dense enough to protect you from strong sunlight, nettles, heather and bracken, yet light enough to dry quickly if you get caught out in a shower. A shower-proof Durable Water Repellence coating is good, especially for walking through long wet grass, but this will eventually wear out in time. You can buy washing additives to restore the DWR, but they rely on the original coating to work, so they have mixed results. The trousers should have plenty of pockets, preferably zipped so that you don't leave your car keys lying by that lovely stream you had lunch by ten miles ago. A map pocket is obviously useful, as is an inner-pocket (inside the map pocket) to keep your phone secure. They should have enough room in the fit to move freely, and should be made from a wicking fabric to help with the evaporation of sweat (more about this later).
If you like to wear shorts, bare in mind that in June, July and August, country paths and fields can sometimes be waist-high in nettles and thistles, so a pair of convertible zip-off trousers might be better, giving you the option to change according to the terrain and weather. Also bare in mind that if you choose to wear shorts, you drastically increase the risk of being bitten by ticks and contracting Lyme Disease. Please don't think that this is only a danger in particular parts of the UK, as Public Health England estimates that there are 3,000 new cases of Lyme Disease every year, and make no mistake, if not diagnosed and treated early, it can kill!
Personally I swear by Craghoppers Kiwi trousers and have done for over a decade. I have over a dozen pairs for different seasons and everyday use, and my only complaint is that some of the waist buttons come poorly secured from the factory ...that's my excuse and I'm sticking to it! For summer use, the Kiwi Pro Active trouser is tough and stretchable, cut to suit the shape of the leg whilst climbing, yet still features zippable pockets, quick drying material and a shower-proof coating etc. To call them comfortable during hillwalking is to redefine the meaning of the word. And they look good too, according to my girlfriend, who also bought a pair, who also looks good in them. New for 2021 is an updated version called Prostretch, made from recycled plastic bottles, with zip-off legs and a more snug fit around the backside. Whilst being superbly practical for mountain walking, they also look good enough to wear to a fancy restaurant, so these new trousers have become my go-to choice for 2021.
For winter walking you simply can't beat the Craghoppers Kiwi Winter-Lined Trousers for value and comfort. They aren't waterproof, but carry on reading for a recommendation regarding lightweight overtrousers from Marmot. My girlfriend and I both wear Craghoppers lined trousers in the winter, and even on the summits of the highest mountains in the UK, in the coldest sub-zero temperatures, whilst our fingers and toes are often numb, cold legs is never a problem thanks to these warm yet fairly lightweight trousers.
For spring and autumn walking, when you need some protection against cold winds but don't want to go the whole hog of wearing lined trousers, I can thoroughly recommend the original-pattern 5.11 Tactical Pant. As you might guess from the name, they are manufactured by an American company, so you might need to hunt for a UK supplier, but at around £50 a pair (depending on where you look) they are a very tough yet comfortable trouser able to withstand all but the worse thorns that a gorse bush can throw in your path. They feature more pockets than you could possibly need, even if going to war (which they are designed for), and the material they are made from has some stretch for comfort. They are a polyester-cotton blend so not 100% wickable, but I have never noticed a problem in this respect, even in warm weather. They are also shower-proof - what's not to like!
Shirts and Tops
When we walk, we sweat, and when we climb peaks we sweat even more. If you wear standard cotton clothing, it absorbs moisture easily, soon becoming wet, clammy and uncomfortable as you perspire. Wet cotton is slow to dry, loses its insulative properties, and worse still, conducts heat away from the body. In cold or changeable conditions this can become dangerous, making hypothermia a very real threat in unexpectedly cold winds. Interestingly, because it gets wet with perspiration and then provides a constant cooling action through evaporation, cotton is sometimes worn by desert walkers and runners trying to stay cool.
The common adage "cotton kills" is therefore not as cut-and-dry as some might think, but nonetheless it pays to understand the different qualities of the materials you wear. Generally speaking then, in average UK climates when it could turn unexpectedly cold, cotton is not a good material to wear when hillwalking in mountainous regions such as North Wales, Scotland or the Lake District. Cellulose fibres such as modal, rayon, viscose, tencel and lyocell are even worse, as they hold more water than cotton and conduct even more heat away.
Synthetic materials such as polyester (polyethylene naphthalate), polypro (polypropylene) and nylon (synthetic polyamide) are strong, light, stretchy, UV resistant, quick-drying and have excellent wicking properties, but are notorious for harbouring bacteria which leads to body odour issues. However, science has solutions in the shape of antibacterial coatings and special blends of fabrics designed to minimise such problems.
As an experiment, I recently completed three difficult hill walks in similar weather, each time wearing a Craghoppers shirt made from a different fabric. After working up a sweat, the polyamide shirt felt wet to the touch but glided smoothly over my skin as I moved, allowing air to circulate within. In cool gusts of wind, the material protected me very well from heat-loss. The 100% cotton shirt quickly became damp with sweat and clung to my skin preventing internal ventilation - so much so that my arm-pits became sore from friction. In gusts of cool wind, the damp cotton shirt offered no protection whatsoever - the cold cut through me as though I had no shirt on at all. The 65%/35% poly-cotton shirt was an acceptable compromise of comfort and protection, but still left me feeling cold during blasts of cool wind near the summit of Snowdon. My conclusion is that the polyamide shirt was by far the best item for wicking, ventilation, movement and protection from cold winds.
The contemporary solution to staying warm and comfortable whilst hillwalking is to build up multiple layers of wicking fabrics, each designed to move sweat away from your body through capillary action, and then into the air through evaporation. Wearing various thin layers of clothing means that you can easily adjust what you wear to suit the climate at any particular moment, and the air caught between layers insulates too, making two thin layers warmer than one thicker, heavier layer.
Current 'best practice' is to wear a thin, snug-fitting, high-wicking 'base layer' to keep the skin cool and dry (e.g. a tight polyester teeshirt); one or more insulating 'mid layers' to control heat-loss in cold weather (e.g. a lightweight polyester fleece); and a 'shell layer' to block water and wind (e.g. a waterproof jacket). A traditional waterproof jacket is known as a 'hard shell' layer, whereas some of the latest 'soft shell' jackets offer the comfort and feel of a smooth fleece with a high degree of water resistance that will protect against wind and light showers. A huge variety of modern 'layer' type clothing exists to offer various compromises of wicking and thermal properties, breathability and comfort, but you might find that you already have suitable clothing in your wardrobe. If not, don't feel that you have to spend a fortune, as both Mountain Warehouse and Sports Direct (Karrimor), sell perfectly good 'technical' base- and mid-layer products at a fraction of the price of the big-name brands, and regularly have clearance events for items that might just happen to be last season's colour.
For summer use, synthetic or semi-synthetic walking shirts are making a bit of a comeback as when partially unbuttoned and worn un-tucked, they allow air to circulate inside the shirt and over the skin. It's personal taste but I'm a shirt fan for hotter days, and if I'm going high where the temperature drops and the wind picks up, I'll also pack a light fleece which then hugs the shirt, trapping insulative air and allowing a good wicking action.
My personal favourite walking shirt is the Craghoppers NosiLife Long-Sleeved Shirt, which can be found for around £35 if you look hard enough. It is 100% polyamide, permanently insect-repellent, has vents on the back, very secure buttons, and features a large concealed map pocket which makes for a handy extra vent if you don't want to unbutton your shirt completely. The only negative I'd add is that the material can 'bobble' like an old jersey under the straps of a back-pack.
Pants and Socks
This is an entirely personal subject, but cotton pants and socks are going to get wet with perspiration - it's inevitable. Bare this in mind before you go out on a walk, and look again to see if you have anything synthetic which might provide better wicking properties than cotton underpants. If you suffer from chafing around your buttocks or thighs, a gel called Lanacane (found in all good chemists) is specially designed to dry on contact and provide a silky barrier against friction.
Hundreds of different walking socks are available, many promising outstanding cooling and breathability but costing a small fortune. For difficult climbs I wear Bridgedale Coolmax liner socks (a blend of polyester, polyamide, polypro and elastane), under Bridgedale TrailBlaze socks (a blend of polyamide, merino wool, polypro and elastane) to prevent blisters (sock rubs against sock instead of skin), and they wick very well. But to be honest, my feet are almost as comfortable in standard Mountain Warehouse walking socks (a blend of wool and acrylic) of the sort sold in double packs at half-price by their tills. Sure, they get slightly wetter with sweat, but I've never had any blisters and they seem just as comfortable as my high-end solution for walks under ten miles or so.
Hats
Because the weather can change, I always carry a lightweight, very-foldable bush hat in my pocket or pack, to protect my follicly challenged head from the sun's UV rays. Something else that goes with me on every walk is a thin, very lightweight thermal balaclava of the type designed to be worn under a motorcycle helmet. As well as the obvious use of keeping one's head warm, it can also be worn as a beanie hat to protect one's ears when traversing high ridges in howling winds. Also available from walking shops are head tubes and snoods that do a similar job but are sometimes more bulky. Finally, and as mentioned previously, if I'm sure to be encountering prolonged spells of rain, I take a lightweight, waterproof bucket hat from Mountain Warehouse, that has a brim with a wider rear (not unlike a sou'wester hat), so that I can allow my jacket to ventilate from the neck. It folds up to pocket-size, so it's not a problem to pack.
Other Equipment
Most of this should be common sense, but for completeness I will now outline other things you should take with you when hillwalking...
1. A map covering your intended route - preferably an OS Explorer map (1:25,000 scale) - together with an understanding of how to use it. Learn to read contour lines such that you can build a mental 3D picture of what you see on the map, for comparison with what you see around you. Check your position regularly enough that you can back-track to your last-known position-fix if you ever find yourself lost. DO NOT fall into the trap of thinking you don't need a map if you have your phone or a GPS unit. People regularly end up calling out Mountain Rescue after their batteries run out, or they drop their units, or simply because the GPS signal is wildly inaccurate when you're standing on the side of a rock so vast that it hides its head in the clouds! Technology is wonderful, but don't be a Grade A Plonker: remember that technology often breaks. Buy a map and learn how to use it. Then buy a compass. And learn how to use it.
2. A compass - preferably the lightweight Silva version developed for the British Army - together with an understanding of how to use it. Most of the time you won't need it, but if fog or cloud closes in and prevents you seeing anything other than the path directly around you, a compass could be all that stands between you and that 100m sheer-drop fast-track to an early grave. Learn how to judge your pace so that you know how far you've walked in a given time (e.g. one mile in 20 minutes), just in case the batteries fail on your phone or GPS unit, and you need to navigate in the traditional way.
3. Water - preferably in a hydration pack that keeps the weight close to your back and centre of gravity. I use a narrow Circuit 2l Hydro Bag from Mountain Warehouse, that includes elasticated lacing to hold my walking poles when not needed, and a pocket for keys and suchlike. It also has insulated padding that keeps the water cold for many hours if cooled in a fridge or freezer beforehand. A few quid more will get you a larger hydration back-pack with a 5 litre compartment and other pockets to hold everything you need for an entire day's hillwalking. Whatever you use though - bottle or bladder - do not underestimate how quickly dehydration and heat exhaustion can get the better of you if the day becomes warmer than expected. It happened to me once, to my shame ...never again!
4. A fully charged smartphone with an app such as ViewRanger, which turns your mobile into a very effective GPS navigation unit. This free app allows you to download and store free OpenCycleMap contour and path maps of any area, or reasonably priced tiles of OS Landranger or OS Explorer maps. As good as you think you are with a map and compass, it doesn't hurt to have GPS technology as a backup in case the weather turns bad and you become unsure of your position. A phone might also be useful if you need to call the emergency services for yourself or someone else you come across on your travels.
5. Walking poles - preferably lightweight and telescopic for adjustment and storage. Click-lock type adjusters are much better than twist-lock mechanisms, which are a pain to use with gloves on, and can suddenly give way if not properly tightened. Walking poles assist with stability over uneven ground, particularly when crossing streams. They are also very useful towards the end of a long walk, when fatigue can make you more susceptible to stumbling, and as any farmer will tell you, if you find yourself surrounded by cattle, just wave a stick at them and they'll think you're a farmer. We use the excellent Karrimor Carbon Walking Poles (@190g) from SportsDirect or Field & Track, costing around £40-£60 a pair (depending on their sales) - good value and so very light and strong. I tend to use them like ski poles for ascents, but put my weight directly down on them during descents, which is why it's important to choose walking poles with handles that suit both types of use.
6. A small first-aid kit containing plasters and antiseptic cream at the very least, if not a bandage and dressings in case you slip on sharp rocks. Hopefully you'll never need to use it, but it could help others as well as yourself.
7. Emergency high-energy rations, even if just a Mars Bar, Bounty or Kendal Mint Cake. You never know when you might fall and have to wait for help, or when you might get lost and exhausted and need an energy boost.
8. A whistle. Usually marketed as a safety or survival whistle, this cheap accessory (less than £5) might just save your life if you get into trouble and cannot move due to being trapped or injured. A safety whistle is intended to be heard, so make sure the one you use can generate at least 100dB and that it can be attached to your back-pack or hung round your neck with a lanyard. The International distress signal is six blasts repeated with an interval of one minute between each series of six blasts. The response from a rescuer should be three whistles in reply. Keep repeating six whistle blasts so that your location can be determined, right up to the point when you can see your rescuer.
9. Waterproof overtrousers. Wearing water resistant walking trousers is all well and good for passing showers, but if there's any chance of more persistent rain, carrying a small, lightweight pack of breathable, waterproof overtrousers will keep you dry and comfortable, and will stop rain running down your legs and into the tops of your boots. Full-zip overtrousers are by far the best as they allow you to wrap and zip them on without having to sit down or remove your boots. The side zips also allow access to your walking trouser pockets, and double-up as full-length vents between showers. Having been so impressed with the breathability and lightness of my Marmot PreCip waterproof jacket, I bought a pair of Marmot PreCip NanoPro waterproof overtrousers weighing just 377g.

Author: Roy Sinclair was taught fieldcraft, navigation and meteorology during his career in the RAF, but claims to remember little beyond the alcoholic haze of a serviceman's social life in the eighties! Roy now lives on the side of Llantysilio Mountain in North Wales, and enjoys hillwalking to keep fit and strengthen his body after major spine surgery. G+
Loading Conversation
This site is protected by reCAPTCHA and the Google
Privacy Policy
and
Terms of Service
apply.