GM2 sound list for the Roland HP603, HP605, LX7 and LX17
Posted by Roy Sinclair on 19 January 2016 at 12:06pm
18 comments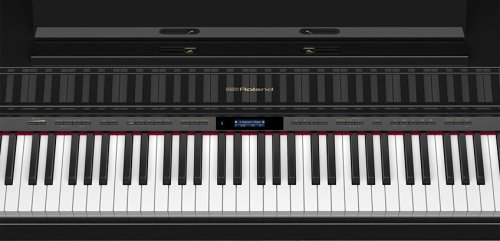 Owners of any of Roland's latest range of HP/LX premium digital pianos will see that there are 255 GM2 instruments available under 'Other > GM2' sounds. However, these are not listed in the piano's manual nor anywhere else I can find, and the instrument descriptions can be a little vague. This blog post corrects this situation, and offers a full GM2 sound list (with MIDI patch and bank numbers, and Roland's reference numbers) in two formats: HTML (below) and PDF (see the download links on the right).
Also available for download as a PDF is (1) a single A4 page listing only the GM2 sounds found in the Roland HP603, HP605, LX7 and LX17; and (2) a single A4 page listing the full set of sounds and tones found in the Roland HP603, HP605, LX7 and LX17, up to and including firmware update v.1.05.
General MIDI Level 2 (GM2) Sound List
General MIDI or GM is a standard or specification for MIDI enabled synthesizers, designed to ensure that a labelled sound created on one MIDI instrument has a degree of consistency with all other MIDI instruments. General MIDI 2 or GM2 extends both the number of available sounds in the standard, and the amount of control available for sound editing and musical performance. Further technical information can be found on the website of the MIDI Manufacturers Association.
The following GM2 sound list is derived from Wikipedia and includes the Roland reference number (as used on HP603, HP605, LX7 and LX17 digital pianos) for Roland's equivalent sound in each case. This is not an authoritative list as Roland do not publish their specification - not that I can find, at least - but most of the sound names match up exactly with Roland's labels, and those that do not are not difficult to work out. If you disagree with the data mapping of any sound, please leave a comment below.
The downloadable PDF presents the sound list in a much more meaningful way, on both sides of a single A4 sheet, for owners of Roland digital pianos from the HP/LX range.
patch no.
bank no.
Roland no.
instrument description
Piano
0
0
20
Acoustic Grand Piano
1
21
Wide Acoustic Grand
2
22
Dark Acoustic Grand
3
Tine Acoustic Grand
4
Acoustic KSP Piano
5
Piano Strings
6
Dream
1
0
23
Bright Acoustic Piano
1
24
Wide Bright Acoustic
2
Brite + Grand
3
Brite KSP
2
0
25
Electric Piano
1
26
CP 80
2
Radio Piano
3
Claxia
4
Electric KSP Piano
5
Detuned CP 80
3
0
27
Broken Pub Piano
1
28
Wide Broken Pub
2
Tine Pub
3
Pub KSP
4
0
29
Tine Electric Piano
1
30
Detuned Electric Piano 1
2
31
Electric Piano 1 Variation
3
32
60's Electric Piano
4
Cool Galaxy
5
Tine KSP
6
Hyper Tine
5
0
33
Synth Electric Piano
1
34
Detuned Electric Piano 2
2
35
Electric Piano 2 Variation
3
36
Electric Piano Legend
4
37
Electric Piano Phase
5
Sm. Piano Variation Phase
6
Synth + Analog Phase
7
Synth KSP
8
Venus E.P
6
0
38
Harpsichord
1
39
Coupled Harpsichord
2
40
Wide Harpsichord
3
41
Open Harpsichord
4
Farxiga
5
Harpsichord 2
6
Harpsichord KSP
7
0
42
Clavinet
1
43
Pulse Clavinet
2
Harpsichord + Clavinet
3
Solarize
4
Clavinet KSP
Chromatic Percussion
8
0
44
Celesta
1
Celesta 2
2
Celestial
9
0
45
Glockenspiel
1
Tinespiel
2
Kids Percussion
10
0
46
Music Box
1
Orgel
11
0
47
Vibraphone
1
48
Wet Vibraphone
2
Jazz Rtm
3
Vibes KSP
12
0
49
Marimba
1
50
Wide Marimba
2
Africa
3
Marimba KSP
4
Sine Marimba
5
Balimba
6
Log Drum
13
0
51
Xylophone
1
Xylophone 2
14
0
52
Tubular Bell
1
53
Church Bell
2
54
Carillon
3
Orient Bell
4
Small Bell
5
Ringing Clock
6
Cosmic
7
Wine Glass
15
0
Dulcimer
1
Applichan Dulcimer
2
Hammered Dulcimer
3
Cimbalom
4
55
Santur
Organ
16
0
56
Tonewheel Organ
1
57
Detuned Organ 1
2
58
60's Organ 1
3
59
Organ 4
4
60's Organ 2
5
70's Organ 1
6
70's Organ 3
7
Calasthetic
8
Jazz Organ
9
Organ Base
10
Cheez Combo
11
70's Organ 2
12
Tonewheel 2
17
0
60
Percussive Organ
1
61
Detuned Organ 2
2
Organ 5
3
Lite Organ
4
62
Percussive Organ 2
5
Voice Organ
18
0
63
Rock Organ
1
Rotary Organ
2
Slow Rotary
3
Fast Rotary
4
Purple Organ
19
0
64
Church Organ 1
1
65
Church Organ 2
2
66
Church Organ 3
3
Notre Dame
4
Organ Flute
5
Tremolo Organ Flute
6
Chapel
20
0
67
Reed Organ
1
68
Puff Organ
21
0
69
French Accordion
1
70
Italian Accordion
22
0
71
Harmonica
1
Modern Harp
23
0
72
Bandoneon
Guitar
24
0
73
Nylon-String Guitar
1
74
Ukulele
2
75
Open Nylon Guitar
3
76
Nylon Guitar 2
4
Velo Guitar Harmony
25
0
77
Steel-String Guitar
1
78
12-String Guitar
2
79
Mandolin
3
80
Steel + Body
4
Nylon + Steel
26
0
81
Jazz Guitar
1
82
Hawaiian Guitar
2
Jazz Amp
27
0
83
Clean Electric Guitar
1
84
Chorus Guitar
2
85
Mid Tone Guitar
28
0
86
Muted Electric Guitar
1
87
Funk Guitar
2
88
Funk Guitar 2
3
89
Jazz Man
29
0
90
Overdriven Guitar
1
91
Guitar Pinch
30
0
92
Distortion Guitar
1
93
Feedback Guitar
2
94
Distortion Rtm Guitar
31
0
95
Guitar Harmonics
1
96
Guitar Feedback
2
Guitar Harmonics 2
Bass
32
0
97
Acoustic Bass
1
Jazz Rhythm
2
VX Upright
33
0
98
Electric Bass
1
Finger Dark
2
Bass Guitar EG
3
99
Finger Slap
4
Mode Bass
34
0
100
Picked Bass
1
Moded Pick
2
Mute Pick Bass
35
0
101
Fretless Bass
1
Fretless 2
2
Fretless 3
3
Fretless 4
36
0
102
Slap Bass 1
1
Punch Theme
37
0
103
Slap Bass 2
1
Velo Slap
38
0
104
Synth Bass 1
1
105
Synth Bass 101
2
106
Synth Bass 3
3
107
Clavi Bass
4
108
Hammer
5
Techno Bass
39
0
109
Synth Bass 2
1
110
Synth Bass 4
2
111
Rubber Bass
3
112
Attack Pulse
4
Mellow Synth Bass
5
Sequenced Bass
6
Click Bass
7
Synth Bass 2 Dark
8
Moduler Bass
9
DX Bass
Orchestra Solo
40
0
113
Violin
1
114
Slow Violin
41
0
115
Viola
42
0
116
Cello
1
Slow Cello
43
0
117
Contrabass
44
0
118
Tremolo Strings
1
Slow Tremolo Strings
2
Suspend Strings
45
0
119
Pizzicato Strings
46
0
120
Harp
1
121
Yang Qin
47
0
122
Timpani
Orchestra Ensemble
48
0
123
Stereo String Ensemble
1
124
Slow Strings
2
125
60's Strings
3
60 Orchestra
4
Orchestra
5
Orchestra 2
6
Velo Strings
49
0
126
Mono String Ensemble
1
Stereo Slow Strings
2
Legato Strings
3
Warm Strings
4
Kingdom
5
Staccato Strings
6
Chrome
50
0
127
Synth Strings 1
1
128
Synth Strings 3
51
0
129
Synth Strings 2
1
Synth Strings 4
52
0
130
Choir Aah
1
131
Choir Aah 2
2
Stereo Choir
3
Mellow Choir
4
Losers Aah
53
0
132
Voice Doo
1
133
Humming
54
0
134
Synth Voice
1
Synth Voice 2
2
Choral
3
135
Analog Voice
55
0
136
Orchestra Hit
1
137
Bass Hit
2
138
6th Hit
3
139
Euro Hit
4
Orchestra Hit 2
5
Impact
Brass
56
0
140
Trumpet
1
141
Dark Trumpet
2
Warm Trumpet
3
Sweet Trumpet
57
0
142
Trombone
1
143
Trombone 2
2
144
Bright Trombone
58
0
145
Tuba
1
Wet Willy
59
0
146
Muted Trumpet
1
147
Muted Trumpet 2
60
0
148
French Horns
1
149
French Horn 2
2
Solo Horn
3
Horn Orchestra
61
0
150
Brass Section 1
1
151
Brass Section 2
2
Big Band Brass
62
0
152
Synth Brass 1
1
153
Synth Brass 3
2
154
Analog Brass 1
3
155
Jump Brass
4
Rezzo Synth Brass
63
0
156
Synth Brass 2
1
157
Synth Brass 4
2
158
Analog Brass 2
3
Soft Brass
4
Choir Brass
Reed
64
0
159
Soprano Sax
1
Sweet Soprano
65
0
160
Alto Sax
1
Breathy Alto Sax
2
Sax Section
66
0
161
Tenor Sax
1
Breathy Tenor Sax
2
Sweet Tenor
67
0
162
Baritone Sax
1
Contrabass Sax
68
0
163
Oboe
1
Solo Oboe
69
0
164
English Horn
1
Fails
70
0
165
Bassoon
1
Contrabassoon
71
0
166
Clarinet
1
Bass Clarinet
Wind
72
0
167
Piccolo
1
Orange Flute
73
0
168
Flute
1
Pure Flute
2
Sweet Flute
74
0
169
Recorder
1
Piano Horn
75
0
170
Pan Flute
1
Warp Whistle
2
Sweet Pan
76
0
171
Plastic Bottle Blow
1
Glass Bottle Blow
77
0
172
Shakuhachi
1
India
78
0
173
Irish Tin Whistle
1
Mouth Whistle
79
0
174
Ocarina
1
Synth Flute
Synth Lead
80
0
175
Square Lead
1
176
Square Lead 2
2
LM Square
3
Hollow
4
Shroud
5
Mellow
6
Solo Sine
7
177
Sine Lead
81
0
178
Saw Lead
1
179
Saw Lead 2
2
Thick Saw
3
Dyna Saw
4
Digi Saw
5
180
Doctor Solo
6
181
Natural Lead
7
182
Sequenced Analog
82
0
183
Synth Calliope
1
Vent Lead
2
Vent Synth
3
Pure Lead
83
0
184
Chiffer Lead
1
Sequenced Lead
84
0
185
Charang
1
186
Wire Lead
2
Distortion Lead
85
0
187
Solo Synth Vox
86
0
188
5th Saw Wave
1
Big Five
87
0
189
Bass & Lead
1
190
Delayed Lead
2
Big & Low
3
Little & High
4
Fat & Perky
5
Soft Whirl
Synth Pad
88
0
191
Fantasia
1
Fantasy
89
0
192
Warm Pad
1
193
Sine Pad
90
0
194
Polysynth Pad
1
Polymer
91
0
195
Space Voice
1
196
Itopia
2
Square Pad
92
0
197
Bowed Glass Pad
1
Bell Pad
93
0
198
Metal Pad
1
Xenon Pad
94
0
199
Halo Pad
1
Halo Pad Variation
2
Halo Pad Phase
3
Halo Pad Legend
4
Angels
5
Equinox
95
0
200
Sweep Pad
1
Dark Moon
Synth Sound FX
96
0
201
Ice Rain
1
Clavi Pad
2
Shanaaz
3
African Wind
4
Carib
97
0
202
Soundtrack
1
Prolouge
2
Empilouge
98
0
203
Stardust
1
204
Synth Mallet
2
Synth Drum Comp
3
Popcorn
4
Tiny Bell
5
Rind Glock
6
Glock Chime
7
Clear Bell
8
Choir Bell
9
Soft Crystal
10
Air Bells
11
Bell Harp
12
Gamelmba
99
0
205
Atmosphere
1
Warm Atmosphere
2
Hollow Relics
3
Nylon EP
4
Nylon Harp
5
Harp Vox
6
Atmosphere Pad
100
0
206
Brightness
1
Bomb
101
0
207
Goblin
1
Goblin Synth
2
Creeper
3
Ritual
4
To Heaven
5
Night
6
Glisten
7
Bell Choir
102
0
208
Echo Drops
1
209
Echo Bell
2
210
Echo Pan
3
Poly Drop
103
0
211
Star Theme
1
Space Synth
Ethnic
104
0
212
Sitar
1
213
Sitar 2
2
Detuned Sitar
3
Sitar Pad
4
Tamboura
105
0
214
Banjo
1
Mute Banjo
2
Zheng
3
Rabab
4
Gopintch
5
Oud
106
0
215
Shamisen
1
Tsugaru
107
0
216
Koto
1
217
Taisho Koto
2
Kanoon
3
Pi Pa
108
0
218
Thumb Piano
109
0
219
Bagpipe
1
Sheng
2
Sou Na
110
0
220
Fiddle
111
0
221
Shanai
1
Di Zi
Percussive
112
0
222
Tinkle Bell
1
Bonang
2
Altair
3
Gamelan
4
S. Gamelan
5
Rama Cymbal
113
0
223
Agogo
1
Tine Bell
114
0
224
Steel Drums
1
Glass Percussion
2
Thai Bells
115
0
225
Woodblock
1
226
Castanets
116
0
227
Taiko
1
228
Concert Bass Drum
2
Grand Cassandra
117
0
229
Melodic Tom 1
1
230
Melodic Tom 2
2
Real Tom
3
Rock Tom
118
0
231
Synth Drum
1
232
Analog Tom
2
233
Electric Percussion
119
0
234
Reverse Cymbal
Sound Effect
120
0
235
Guitar Fret Noise
1
236
Guitar Cut Noise
2
237
String Slap
3
Guitar Cut Noise 2
121
0
238
Breath Noise
1
239
Flute Key Click
122
0
240
Seashore
1
241
Rain
2
242
Thunder
3
243
Wind
4
244
Stream
5
245
Bubble
6
Feed
123
0
246
Bird
1
247
Dog
2
248
Horse-Gallop
3
249
Bird 2
4
Horse-Whinny
5
Maou
6
Cow
7
Snake Hiss
8
Chicken Cluck
9
Rooster Crow
124
0
250
Telephone 1
1
251
Telephone 2
2
252
Door Creaking
3
253
Door Closing
4
254
Scratch
5
255
Wind Chimes
6
Phone Call
7
Scratch 2
8
Clock Tick
125
0
256
Helicopter
1
257
Car-Engine
2
258
Car-Stop
3
259
Car-Pass
4
260
Car-Crash
5
261
Siren
6
262
Train
7
263
Jetplane
8
264
Starship
9
265
Burst Noise
10
Rollercoaster
11
Submarine
12
Boat
126
0
266
Applause
1
267
Laughing
2
268
Screaming
3
269
Punch
4
270
Heart Beat
5
271
Footsteps
6
Slap
7
Burping
8
Farting
127
0
272
Gun Shot
1
273
Machine Gun
2
274
Lasergun
3
Minigun
4
Bazooka
5
Tank
6
275
Explosion
7
Firework
Loading Conversation