Get your house in order - increase direct bookings
Posted by Diane Nicholls on 02 July 2014 at 3:05pm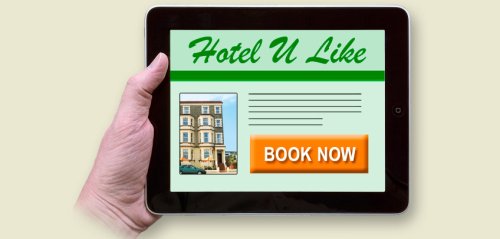 VisitBritain predicts a 2.5% growth in volume, and a 4.2% growth in value for inbound tourism during 2014*. Good news for hoteliers, but playing host during this projected 'record year' means getting our house in order if we want those all important yet often illusive direct room bookings.
Grab opportunities for conversion
Technology and social networking is what drives most room bookings. This is hardly headline news, neither is the rising cost of commissions that hoteliers pay to OTAs. But empty room nights are not an option. Rather than complaining about OTAs, or suggesting that commissions should be capped, it's worth considering other things that can help to attract direct bookings that don't involve commissions. If a 2012 HSMAI special report is to be believed, two years ago around 76% of hotel bookings were driven via OTAs, and over half of those visitors checked a hotel's website for more information before booking. Yet only a small number of customers actually booked directly with the hotel of their choice - the rest either booked with the OTA, or not at all. Let's try reversing this trend.
Answer the digital bell
OTA websites are certainly bigger and busier internet environments when compared with those of the independent hotelier. But theirs is a faceless and cold environment, with little in the way of a welcoming atmosphere at the door of an OTA's website. The sheer number of OTAs has created a frenetic marketplace where customers are drawn to the prospect of a good deal before good hospitality. Like OTAs, your hotel's website needs to offer customers relevant information, immediately - don't make visitors work hard for it any more than you would keep them waiting to check-in. Make it easy for them to explore their preferences, allow the creation of personalised options, give them use of a hotel booking system that is intuitive and user friendly, particularly on mobile devices. Resist the urge to believe that every visitor who spends lots of time on your hotel website means that you've got it covered. On the contrary, flitting around your webpages might mean the equivalent of the visitor repeatedly ringing the bell on the reception desk in order to get some attention, which could signal the beginning of the end for a conversion.
Give website visitors what they want
Your hotel website needs to be contemporary, easy to navigate, and responsive for mobile devices (Site System is perfect for hotel websites, by the way). Explain your unique selling point beyond the basics of location, comfort and price - be true to your hotel and make sure the details are helpful, ensuring parity between your website and that of your OTAs. Have courage in your convictions and build on these points before offering discounts. If you have every reason to believe your prices are fair, there's no reason to change them. Boasting 'wonderfully decorated rooms', fundamentally, is a matter of opinion, so explain how you differentiate yourself from the competition, or what inspired certain aspects of your hotel's decor and style. Help bring a sense of emotion to your visitors. Entice them further towards making a booking by ensuring that photographs are taken by a professional, and that they compliment the overall look and feel of your website. Invite visitors in with a guided tour highlighting what you have to offer once they arrive at your door.
Make sure they'll want to come back again
Finally, note that research by PricewaterhouseCoopers suggests that 65% of all hotel guests are likely to re-book hotels where they've had a great experience, and that staff attentiveness ranks as the top driver of great hotel experiences. It sounds obvious, and easy to keep guests happy, yet review sites are full of angry guests who broadcast to the world how their hotel was lacking in this vital area of customer care. Smile; keep the guest happy; don't give them reason to complain to the world!
You've got less than a minute to impress your guests, seconds in some cases - be it in your hotel foyer or on your website. Taking a long, hard look at how you achieve this might make the difference between securing a direct booking, or losing the prospect altogether. By getting your own house in order you stand as a good a chance as any to take credit for higher occupancy rates, improved ADR, and increased control of your business.
* Reference: www.visitengland.org, Domestic Leisure Tourism Trends for the Next Decade Dec 2013

Author: Diane Nicholls spent 16 years in hospitality management before becoming a copy-writer and author. She now focuses on search engine optimisation and content marketing. G+
Loading Conversation
This site is protected by reCAPTCHA and the Google
Privacy Policy
and
Terms of Service
apply.