Probably the best hillwalking route up and down Snowdon (9.5 miles)
Posted by Roy Sinclair on 11 September 2015 at 4:08pm
16 comments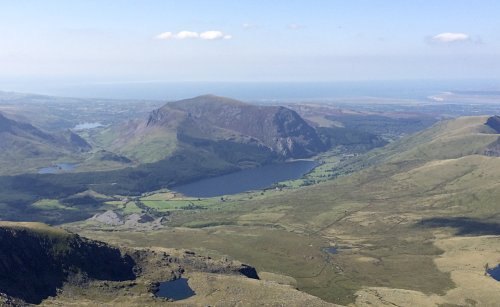 The best route for any walk is entirely subjective, but how's this for a set of criteria:
(1) stunning views that'll take your breath away;
(2) peace and quiet, to be at one with nature;
(3) varied terrain, to keep things interesting;
(4) some degree of a navigational challenge;
(5) readily available parking at the start-point;
(6) some degree of excitement or thrill; and
(7) a beer or coffee stop at some point during the walk.
This, for me, defines the perfect hill walk, and whilst I have found other walks that tick all these boxes, none come close to a weekday ascent of Snowdon by the Rhyd-Ddu Path, followed by a descent on the Snowdon Ranger Path, with a short cross-country hike back to the Rhyd-Ddu car park via the disused yet still interesting Ffridd Slate Quarry. At 9.5 miles, it's long enough to feel like you've achieved something beyond the normal ascent of Snowdon.
Snowdon's quietest paths
The main problem with 'doing Snowdon' is the mountain's popularity, which means that the easy Llanberis 'tourist path' can look like a busy shopping centre escalator at times. In fair weather, it seems to fill up with day-tripping families wearing sandals and flip-flops, with exhausted children and unruly dogs on long leads waiting to trip and block you at every step. Many of these visitors are also haplessly oblivious to the fact that people frequently die on the Snowdon Massif, through lack of preparation for what can rapidly change into a hostile environment.
Fortunately, salvation is at hand for the experienced hillwalker, in the form of the least-used three western/southern paths: the quiet Rhyd-Ddu Path (pronounced 'rheed-thee') with its western views, exposed ridges and a light scramble here and there; the next-quietest route, the southern Watkins Path, with its challenging scree-covered final ascent; and the easy Snowdon Ranger Path with enough steep sections to remind you that you are actually negotiating a mountain, not just a big hill. The Watkins Path is quite isolated, but the Rhyd-Ddu and Snowdon Ranger paths are close enough together to be able to complete a circuit in under ten miles, meaning that you can start and finish from the same car park - always handy!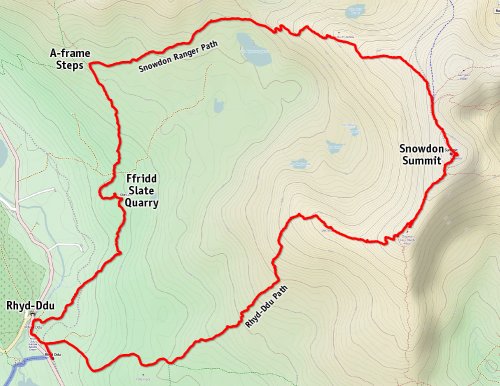 Every good walk starts with a parking space
Unless you want to get up and drive to the tiny village of Rhyd-Ddu before the morning sun puts in an appearance, you should choose a predictably fine weekday for your hike; not a sunny weekend in the school holidays. Why? …because even though the Rhyd-Ddu Path is the quietest route up Snowdon, there are only so-many spaces in the station car park, and if you don't manage to bag one of them, the chances are you'll need to park many miles away and get a taxi or a Sherpa Bus back to Rhyd-Ddu, which will eat into your schedule. My girlfriend and I recently arrived at 9am on a glorious autumnal Tuesday, and the car park was less than a quarter full, but a summer's weekend can see it packed full by 8am, so we are told. As at September 2021, parking costs £6 for a whole day (card payments only), and note that there are additional spaces through the back of the car park, alongside the narrow gauge Welsh Highland Railway station (built in 1881). There are public toilets at the car park, which is very convenient if you've driven a long way to start your ascent of the highest mountain in England and Wales.
Dress to survive
Before you even leave home, make sure you are wearing and carrying the right gear for the task ahead, being aware that the weather in Snowdonia can quickly change. If moist air moves in from the coast, new clouds can form around you in seconds, with zero warning. Suddenly that clear path to the summit can disappear, leaving you unable to see more than a few metres ahead. With plunging drops only metres away from the Rhyd-Ddu Path in places, the last thing you want to be doing is wondering which direction to walk in. So at the very least, take a proper Ordnance Survey map and a compass, and make sure you know how to use them. As for clothing and other kit, I've covered all this in a separate article about hillwalking in Snowdonia.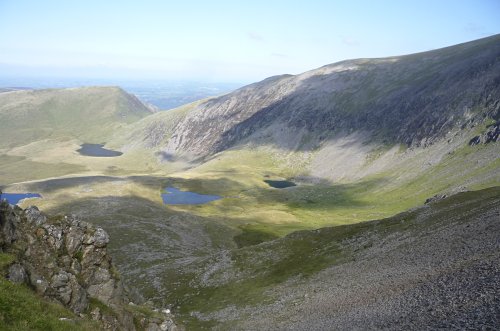 And we're off...
So you've picked a nice day, found a parking space, donned your boots and off you go. Walk to the north of the station platform and across the railway line, then follow the signposted path all the way to the summit. The route starts with a gentle climb and after exactly one mile you need to take a left at a junction of paths. You can see the steeper sections ahead, so you always know what's coming, and there are plenty of grassy spots to rest a while, if needed, and to take in the views. At about the two-and-half mile mark, you reach Llechog, the ridge which curves down from the summit through Bwlch Main, forming the lip of the deep bowl of Cwm Clogwyn (shown above). That in itself is a dramatic sight, especially with the morning shadows, but every step that you take upwards reveals ever more stunning views behind you. Even in hazy conditions the panorama behind is awesome (shown below), but in good visibility the term 'beautiful' doesn't seem to cut it; 'staggeringly breathtaking' is more like it, as even the Irish Wicklow mountains come into view.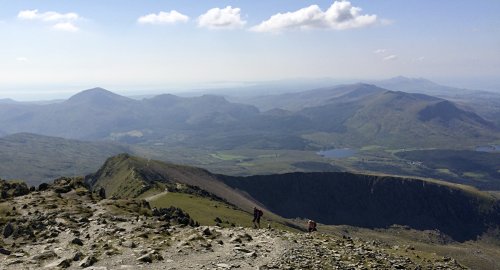 An opportunity for an extra thrill
As the path meets the Bwlch Main Ridge (after about 3.3 miles), you can look back and see another path joining from above where you have just walked up. This is the South Ridge Path and it features a peak at 931 metres high, just prior to joining the Rhyd-Ddu Path that you are on. If the wind is calm and you like a thrill, and you have a very good head for heights, take a detour up this path and climb up onto the pinnacle (obviously this is dangerous, so don't attempt it in strong winds, or if you are prone to dizziness). What might be nothing special to experienced climbers was nonetheless an adrenaline-inducing buzz for my girlfriend and I, as we stood up to take each other's photos. We had sheer drops of many hundreds of metres on each side, a clear view of the summit in front, and a panorama to die for behind. If ever you are going to feel on top of the world, this is it, but the photos didn't seem to capture the thrill of the moment. To put things into context, I have therefore photoshopped a picture of my girlfriend taken on the pinnacle, onto a picture of the same scene taken further along the Rhyd-Ddu Path. That does it, I think; that captures the moment!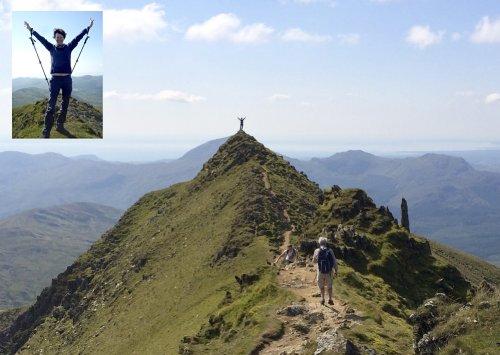 After the thrill of the Clogwyn Du peak, the rest of the climb up the Bwlch Main Ridge seemed rather tame. Yes, there were sheer drops to both sides in places, but the one-metre wide path now seemed so 'safe' in the calm weather, that we started considering the Crib Gogh Path - the ultimate Snowdon Massif challenge for adrenaline junkies. A twinge from the nerves around the implants in my spine, served to remind me that I once faced the prospect of life in a wheelchair, and that I should be grateful enough that I am now able to climb hills at all, let alone risk undoing all the surgeon's good works by putting too much strain on my back. A sobering thought as we entered the Summit Cafe for a well-earned hot drink. All the seats were occupied by tourists that had caught the train up the mountain; such is the price of having a cafe in this most unexpected place. It's a similar story when it comes to bagging the summit trig-point: one has to queue in line behind unfit tourists from around the world, while they smoke, cough and struggle to climb the few steps up to the highest point in England and Wales. Maybe a lift should be installed!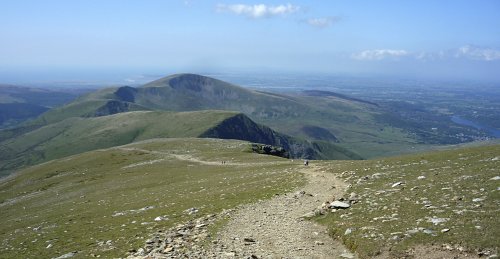 Coming back down to earth
The less dramatic Snowdon Ranger Path makes for an easier descent of Snowdon, gently traversing Bwlch Glas (shown above) before the steeper Clogwyn Du'r Arddu (pronounced 'steep bit') and then the rocky zig-zig section down Bwlch Cwm Brwynog (pronounced 'steeper still'). As the path curves around a small reservoir below (Llyn Ffynnon-y-gwas ...no idea how to pronounce it), a meandering brook flows down from the right - the perfect spot for a snack and to rest your knees after the worst of the descent.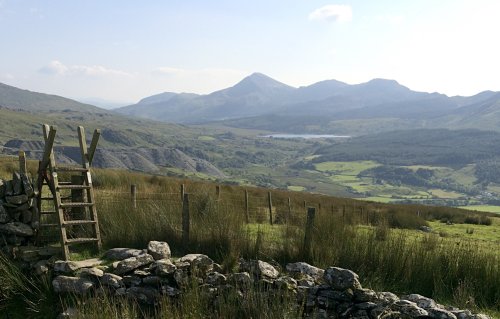 An interesting bog-hopping experience
Further along the Snowdon Ranger Path, just before a gate, you will see some A-frame steps on your left, with a disused slate quarry in the distance (shown above). Behind the quarry and to the right, is a lake, in front of which is the Rhyd-Ddu car park. This is the start of the roughly two-mile trek back to the car, and trek it is! What seems to be a perfectly clear green line on the OS map, is actually a series of occasionally bog-ridden fields with plenty of picturesque streams and waterfalls to cross (walkways are provided). The route also incorporates the most bizarre footpath I've ever encountered, taking one past the ruins of two-storey buildings, and over huge slate spoil-heaps that are just as they were left by the quarry's workers 155 years ago. Read your OS map, keep an eye open for the regular waymarker discs and you shouldn't go wrong. But make sure you wear waterproof boots, and allow plenty of time to negotiate the boggy sections as you find them. I wouldn't suggest attempting this route after heavy rain, nor in failing light unless you are wearing tight-fitting wellies. That said, we found it great fun trying to pick routes to keep our feet dry, which we did, I might add, very successfully, thanks to the tactic of stepping on, instead of between, the tufts of grass and reeds. It's a pretty route though, so worth the effort of a bit of minor bog-hopping.
What a day!
All-in-all, this 7 hour, 9.5 mile, roughly circular walk up Snowdon was one of those days the memories of which we will cherish for years to come. It had thrills, challenges, staggering views and isolation when away from the summit …which is where I came in, and why I consider it to be the best route up and down Snowdon. Each to their own but let me know if you disagree.

Author: Roy Sinclair was taught fieldcraft, navigation and meteorology during his career in the RAF, but claims to remember little beyond the alcoholic haze of a serviceman's social life in the eighties! Roy now lives on the side of Llantysilio Mountain in North Wales, and enjoys hillwalking to keep fit and strengthen his body after major spine surgery. G+
Loading Conversation
This site is protected by reCAPTCHA and the Google
Privacy Policy
and
Terms of Service
apply.